New gearbox
I bought a 2nd hand Mk2 Escort 1600 Sport gearbox to replace the old one - whose 4th gear synchro retaining ring had broken. It was in a very dirty state - never mind, an evening spent cleaning it with thinners and a pressure washer brought it up nicely!
Unfortunately, the old (modified) gearstick does not fit this (perhaps the old box is a Mk1 Escort), so we needed to make a new one. I got some rod-end bearings, a quick shift kit (from Rally Design) and some 12mm dowel pins to make the new stick (although the dowel pin was too tough to machine, and was replaced with some slightly more compliant steel). These are the fruits of an evening's labour: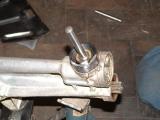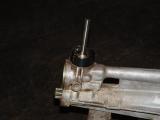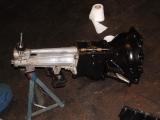 At the same time, I got a new propshaft made by Reco-Prop. After a fairly worrying time trying to get it to fit (it looked like it was too long), it was fine (with about 20mm of available movement, which considering the length of the 4-bars is ample). The gearstick linkage needed some slight alterations - we (or rather an engineering friend of mine, Keith) put a slot and a couple of holes in the bar, replacing the welded on tag of the old stick. This meant it needed to be longer, but I also took the opportunity to put a couple of kinks in the linkage bar, as well as a flange either side of the in-car stick connection. This made the gear change much more positive (although reverse is still easier to find than I like).
The car is now back on the road, and I hope to go to the 2004 Donington show (about 150 miles away), and the week after, to France. At the time of writing, I've done another 300ish miles with the new gearbox and propshaft (and differential/rear bearings). Pete even convinced me to try some donuts in the car (not the sugar kind :-) ) - with the LSD, it means both wheels can spin, resulting in less wear to the differential. Pete also thinks the new diff makes the car safer - it is certainly less tail-happy than it was before everything was changed.
The next thing I want to sort out is the hood - while the actual material is good, the linkage bars are attrocious. I'll probably do this over the winter. Pete also wants me to get a larger engine - either a Pinto, or a Vauxhall 16v jobby (Astra). I'm not too keen on the Pinto, as the inlet/exhaust are swapped around, but the Vauxhall lump is the right way around. I'm also considering a Zetec, but Pete's not too keen on that idea (apparently it's not as strong as the Pinto/Astra engine). Whatever I choose, I'll have to go for a Type 9 gearbox anyway since the 1600 sport box almost certainly won't be able to cope (although the differential should be very happy).