Two Trips
After the hassle of repainting, replacing the rear axle bearings (and the differential) and the new gearbox, there were two important trips that I wanted to make - the 2004 Donington Kit Car show, and a trip to France to see my brother and father. These were on the 4th and 11/12th September respectively (although the car show was on the 5th as well).
The kit car show
Barely a week after fitting everything back together, I was taking it on a 300 mile round trip up to Castle Donington and back. I'd taken a couple of days off work driving it to Portsmouth and back with no problems (except for a slight overheating problem when I got stuck in very stop-start traffic going up hill).
I left early - around 7am - so that I would avoid major traffic, and also give myself some time up there. Everything was fine on the trip up there (there was some slight oil leakage, but nothing to worry about) - except as I left the services just off the M1, I found that where I should be in 3rd, I was in 1st, and when I shifted to 4th, it was actually 2nd. Then, I lost all gears entirely. Luckily, I had enough momentum to get to the next roundabout, and pull off by a gated off exit. Taking the bonnet off, I found that the gearstick shaft we'd made the previous weekend had shapped in two. This was not good news. I didn't like the idea of calling the AA, as I'd called them a couple of months earlier because of the gearbox, and they were going to cover me for my French trip - I didn't want them to cancel it!
While I was pondering the problem, another 7-clone owner (actually a Locost) stopped next to me - he'd just run out of petrol as it had happened. We discussed our various predicaments - I had a can of petrol just for that occasion (I'd run out the night before, after giving a friend a ride [and there was no space for it and him]). I gave him the petrol, and we tried to rig the gearstick up. Unfortunately, there's only so much you can do with cable ties, and it kept on slipping off. So, he suggested that I just stick it into any gear, and he'd follow me to the show - it was only a mile away. I wanted to put it in 3rd, but had to settle for 2nd. I arrived at the show, with the engine getting quite hot, but at least I was there.
I spent some time driving around, looking for the Locust Enthusiasts Club pitch, but I could not find it. I was getting worried about the heat of the engine - when it got hot earlier, it tended to loose power, and start misfiring (I think it has a sticking valve when it's hot). I couldn't really find anywhere to park, so I went to the end of a row of cars, and turned left. In front of me were some gates with the exhibition hall behind them. Since I had no reverse gear, and I couldn't push it by myself, I decided to stop there and have a look (while letting the engine cool down). Shortly, though, someone wanted to leave the area, and security came up to me. I explained the problem, and with a little push, they let me into the exhibitor's area to sort the problem out!
Being in the exhibitor's area was very handy - I could walk to and from the hall in order to locate parts to fix it. How to fix it was a different matter. If I was at home, I'd weld it together again, but there would be a lack of welders (with power) here. Time to be inventive...
What I needed was a way to join two 12mm diameter bars together. Again, at home I've got some 14mm diameter pipe with 1mm thick walls - if I could find something like that, then that would be the solution. What I found was a battery terminal clamp - it has a large hole where the battery terminal sits, and another hole (or more of a pipe) at 90° to it. This, after measuring, was about 12mm. Perfect. I bought the item (along with a spring - if I needed to pull the linkage bar down). While I'm writing this, I've just thought that you may not have any idea as to what it looks like! Check out Keith Taylor's prize winning Locust at the Locust Enthusiasts Club web site (go to the "Builds" section). His gear stick linkage is similar to mine. Where it snapped was the gearbox (right hand side) end - you can see pictures of the pre-broken item in my gearbox section.
With this item in hand, I proceeded to fit it. While the gearbox end of the snapped item was long enough, the other end was too short. No problem - I turned it upsidedown, and there was plenty left. Unfortunately, the gearbox end had slightly burred where it had snapped, and also the terminal clamp wasn't quite 12mm, so it was back to the stalls to buy some (cheap) files. A short while later, I had a working gearstick (albeit with a longer throw - who cares!), thanked the security guard and drove off, finding the club stand.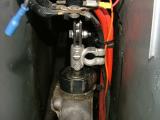 The main items I wanted to buy was a stainless steel exhaust box, stainless headlamps and a sender for a fuel tank (I'd decided the night before I needed a new tank, with a sender that works - trying to remember how far since my last fill up was the reason why I'd run out of petrol).
I ended up with some chrome-on-brass lamps, which I was assured would not rust, and a stainless box. I'd spent enough money for one day, so the sender could wait (it's a winter project).
I took some pictures of the other Locusts there: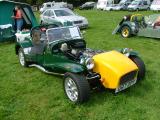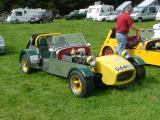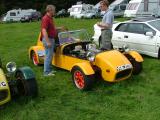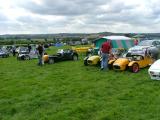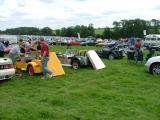 After some food from the club representatives (thanks, Dave and Jackie!), I set off home (my cats would want feeding!)
I stopped at the same services, and the gearstick came off again. Luckily, it was just because I hadn't screwed down the terminal enough. It didn't give me any more trouble after that!
However, that wasn't the only thing to go wrong. On the trip back, the speedo stopped working. It took a couple of days to find out the problem - the cable had simply snapped (I'd ordered another one just in case), but Sunday was spent repairing the gearbox.
The French trip
With the 300 mile trip behind me, the next one would take the car back to France (it had been there in March, but a lot has changed since then).
Compared to the Donington trip, this was surprisingly uneventful - the oil leak was a little worse (it splashes out of the dipstick hole - we'd put a Mini valve cover on it, but this was degrading). It also rained, but the main problem was the French road that I drove down - they had ripped up the tarmac for resurfacing, and either there wasn't one, or I missed the ramp sign to tell me that the tarmac bit was starting. Trying to mount a 7cm 45° curb at 30MPH isn't fun! The entire car leapt into the air, with everything in it. Not good for the suspension.
After all that, it made it there and back, which is what I was after.
Now to fit the new speedo cable, lights and exhaust, and fix the dipstick splash problem...