Final days
Since October 2005, I've been building an Aeon GT³, and since it's getting close to being finished, it's time for me to sell the Locust.
I first advertised it for sale at the Detling show (for £4,000 - I've probably spent £8,000 on it), where it was on the Locust Enthusiasts Club stand - I was on the Aeon Owners Club stand, which happened to be right next door.
I had a couple of interested people - one on Saturday, but he wouldn't have the money until June, and another on Sunday who didn't have is wife with him, so couldn't commit to anything.
There's still some more bits I wanted to do to it, the first was to replace the exhaust, so on the Monday after the Detling show, I ordered an Ashley AFM5 manifold (the box and a polished stainless tube I'd bought at the Donnington show in 2004.
Later that evening, Steve (the guy from Sunday) called to say that he wanted it, and would pick it up at the Stoneleigh show. Since the manifold was turning up, I decided to fit it anyway (it won't fit the Aeon anyway).
The weekend after Detling was Easter, and I spent the time emptying my garage because I need to put the Aeon in it, but today (23rd April), everything was in its place (the Locust will be in my neighbour's garage until next weekend).
It took about 4 hours to cut, weld, grind and paint the new manifold and the stainless tube to fit.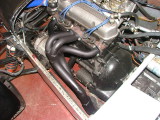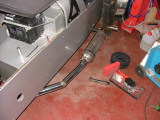 I then took it for a drive, to burn off the paint and harden the firegum (I was initially concerned by smoke coming out of the exhaust before I remembered it's new - and half way around it was smoking quite a lot, which had cleared by the end). When I got back, the stainless tube was beginning to go yellow.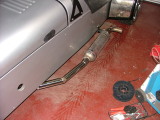 The exhaust is below the chassis rail, which is a little worrying - however, I won't have to worry about it for much longer. It would've been quite difficult to make it not do this.
That's all the work I'll be doing on the Locust; I'd like to have replaced one of the gauges (it had a slight knock), some longer rear shocks (these like to bottom out a bit), a little tidying up of the wiring behind the dash (the electronic speedo required a little bit of splicing).
I'm actually feeling a bit sad to sell it now...
Note the guy didn't turn up, so I've sorted out the exhaust, and sorted out a couple more things - as a result, I'm now asking £4,500.